The EHT Supply is adjustable between 350Volts and 1300Volts making this detector suitable for use with a variety of suitable probes, but also allowing it to be tailored for sensitivity to particular isotopes of known energy levels.

These devices were common in Medical Nuclear Physics labs before the advent of MCA's and semiconductor detectors.

The dual phosphor probe contains a photomultiplier which amplifies the weak phosphor emissions and produces electrical pulses which the unit then detects.

The unit operates on a 9 Volt (PP9) battery which provides approximately 60 hours of run time.



Download Description
File Name
File Size
PCM3 Instruction & Service Manual
in (

.djVu

format)

PCM3 Service Manual.djvu

4.63 Mbytes
I have compressed the scanned manual with .DjVu.

For those unfamiliar with DjVu, you'll need a viewer to open DjVu files and you can obtain free Open Source viewer software that works standalone as well as integrating with both Internet Explorer and Mozilla Firefox.

I've found that the free DjVuLibre software from http://djvu.sourceforge.net/ works well on my PC. There are other DjVu viewers and a Google Search will find lots of options.

You can also download utilities from DjVu's creaters at http://www.lizardtech.com however there may be licensing conditions to review and adhere to.




Right Mouse Button click on the link and select "Save Link as .... "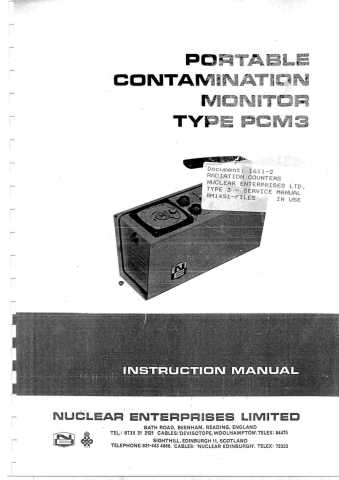 PCM3 Portable Scintillation Radiation Contamination Monitor


The PCM3 is a portable contamination monitor which was made by Nuclear Enterprises Limited in the United Kingdom around 1969.

It was designed to operate with a dual phosphor probe and would detect both Alpha and Beta radioactive emissions.


PCM3 Scintillation Detector